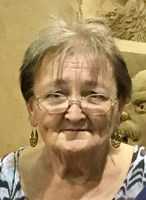 Mary P. Wolbert
Mary P. Wolbert
CANASTOTA – Mary P. Wolbert, age 66, of West Chapel Street in Canastota, passed away unexpectedly on Friday, September 15, 2017, at Upstate University Hospital in Syracuse.
Born on May 24, 1951, in Syracuse, NY, she was the daughter of Martha Agnes (Leach) Scott. Mary was a high school graduate of Pulaski Academy.
Mary was talented at knitting and crocheting. She had a fondness for bears and enjoyed collecting teddy bears and other bear related items. Mary was delightfully silly and is remembered for her great sense of humor. She loved spending time with her family. Above all, Mary adored spending time with her two grandchildren.
Surviving are her two children, Amanda Cameron and her husband, Jeffrey of Oneida, and Thomas Wolbert of Canastota; her two grandchildren, Grant Cameron and Olivia Cameron; her two sisters, and many nieces and nephews.
In keeping with the family's wishes, calling hours will not be held. A private burial will take place at the family's convenience at a later date. Online condolences may be made by visiting www.maleckifuneralhome.com.