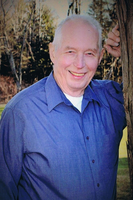 Donald F. Vanderhoof
Donald Vanderhoof
Verona – Donald Vanderhoof, age 79, of Old Oneida Road in Verona, passed away unexpectedly at his home on Sunday, September 17, 2017.
Born on March 18, 1938, in Verona, NY, he was the son of the late Myron and Matilda (Miller) Vanderhoof. Donald was an alumni of the first graduating class of Vernon-Verona-Sherrill School District. In 1955, in Oneida, NY, Donald was united in marriage to Caroline Johnson.
Donald proudly lived in Verona his entire life. He was a talented cabinet builder for years. Donald was employed by Mohawk Data Science and Canterbury Press. He honorably served in the National Guard. Donald was a member of the Vernon Legion POST 404. He enjoyed playing softball in his younger years. He was an avid Dodgers fan. Donald enjoyed cutting wood. He will be missed by his beloved dog Ginger. And above all, Donald was tremendously proud of his children.
He leaves behind his wife of 62 years, Carol Vanderhoof; his seven children, Lynn Vanderhoof and Michelle Finen, Mark and Mary Vanderhoof, Brian and Linda Vanderhoof, Steven Vanderhoof and Ruth DeWolfe, Thomas and Brenda Vanderhoof, Doreen Roskoff and Dan Zalepeski, and Eric Vanderhoof; his sister, Rita Herter; his 20 grandchildren, April Fox, Amy and Shaun Bowen, Katie and Dan Coolican, Stephen and Jolene Vanderhoof, Andrew and Stacy Vanderhoof, Tonya and George Henson, Danielle and Dan Smith, Jason and Diana Vanderhoof, Justin and Susana Vanderhoof, Tara and Johnny Wynes, Blain and Alisha Vanderhoof, Craig and Hillary Vanderhoof, Benjamin Vanderhoof, Whitney and Ryan Trosper, Jade Vanderhoof, Paul Paparella, Adam Vanderhoof, Nathan Roskoff, Britney Vanderhoof, and Austin Vanderhoof and his mother, Chyrl Kogut; 37 great grandchildren; one great-great grandchild; and many nieces and nephews.
In addition to his parents, Donald was predeceased by his brother, Everett Vanderhoof; and his sister, Norma Cox.
In keeping with Donald's wishes, calling hours and funeral services will be private. The family will receive friends at the American Legion Post 404 at 5192 W Seneca St. in Vernon on Wednesday, September 20, 2017, at 4 P.M. In lieu of flowers, donations in Donald's name may be made to Disabled American Veterans (D.A.V.) on their website at www.dav.org, or envelops for the D.A.V. will be available at Legion on Wednesday. Online condolences may be made by visiting www.maleckifuneralhome.com.