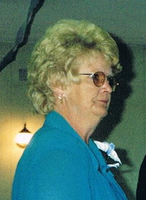 Carol W. Kobler
Oriskany Falls-Carol W. Kobler, age 66, of State Rt. 20, passed away peacefully Sunday afternoon, September 24, 2017 in Upstate Hospital with her family at her side.
She was born on September 11, 1951 in Rome, New York a daughter of the late Lyle and Alice (Davies) Walker and was a graduate of V.V.S. Central School.
On April 15, 1978 Carol and Paul B. Kobler were united in marriage in the Lowell United Methodist Church and have shared this loving vow of over thirty-eight years together.
Carol was a stay at home Mom until her children were grown. She then worked for the bakery department of Price Chopper in Richfield Springs.
She enjoyed baking, crocheting, gardening both vegetables and flowers. She was very active with the 4H and the FFA. She enjoyed going to the state and county fairs where she got an opportunity to show her Red & White Holsteins and also at the National Level. She was a farmer's wife and enjoyed being around the farm.
Surviving are her husband, Paul B. Kobler, six children and this spouses, John (Heather) Kobler of Rome, Danielle (Michael) Brockway of Cassville, Joseph (Erin) Kobler of Kelso, Washington, Christine (Dan) Howard of Leonardsville, Jeffrey (Kelly) Kobler of Durhamville and Paul (Stacy) Kobler of Leonardsville, fifteen grandchildren, one sister, Nancy (Jack) Morgan of Verona, special friends, Nathan and Vanessa Faherty of Verona and many nieces, nephews, and brothers-in-law and sisters-in-law.
Carol was predeceased by her parents and brother Robert Walker.
Family and friends are invited to call on Thursday, September 28, 2017 from 3:00 to 8:00 p.m. at the Malecki Funeral Home Inc., 23 Front Street, Vernon. Funeral services will be held on Friday at 10:30 a.m. at the Malecki Funeral Home, Vernon, NY. Burial will follow in Lowell Cemetery, Lowell, NY. Online condolences may be sent o maleckifuneralhome.com