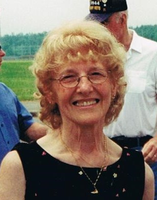 Mary Anne Baker
Clinton - Mary Anne Bikowsky Baker, formerly of Vernon, passed away peacefully on Friday October 27, 2017 in the Katherine Luther Home. She was 83. Her children would like to express their thanks to the kind and attentive staff at the Luther Home for their tender care of their mother.
Mary Anne was married to the late C. Robert Baker for almost sixty years. Together they raised a loving, supportive family of four children and four grandchildren. She was dearly loved and had a joy for life that was apparent to everyone who met her. Mary Anne loved her family and all things of nature. She enjoyed cooking and spending time with her family, and especially having everyone together for the holidays. She delighted in her garden and tending her flower beds. She had a special way with animals, both pets and wild creatures. She could get wild birds to eat from her hand. She was also a person of great faith, and treasured her friends in the Franciscan Order of the Holy Family Church of Vernon.
Mary Anne grew up in Munnsville, the daughter of Paul Bikowsky and Anna Caplap Bikowsky Kolodczak. She started her education in a one-room schoolhouse across the road from the family farm. She graduated from Madison High School, received her registered nursing degree from Crouse Irving Memorial, and worked as a nurse at Faxton Hospital for many years. In her early forties she furthered her education at Syracuse University and became a nursing instructor at Madison-Oneida BOCES. She was a great teacher and cherished by her students. She was always proud to see her students succeed in nursing.
She is survived by her daughters Diana (Brown) White and husband Scott, Shari (Louis) Kadushin and husband Philip, her son Charles Baker, her grandchildren William Louis, Nathan Baker and Morgan Baker, and her brother John Bikowsky. She was predeceased by her husband C. Robert Baker, her son Robert David Baker, and her grandson Charles Paul Baker. She will be missed by her extended family and all who knew her.
Mary Anne's Mass of Christian Burial will be celebrated on Friday, November 3 at 11:00 a.m. at Holy Family Church, Peterboro Street, Vernon. Burial will be in St. Patrick's Cemetery, Oneida, New York. Online condolences may be sent to maleckifuneralhomes.com.