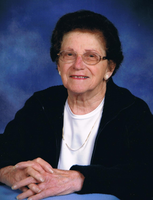 Concetta A. "Connie" Szaraz
Vernon-Concetta A. (Liberati) Szaraz- age 92, of Verona Street passed away peacefully Wednesday evening, November 8, 2017 in St. Luke's Healthcare Center with her family at her side.
She was born on October 5, 1925 in Syracuse, New York a daughter of the late Dominick and Mary (Natale) Liberati and was a graduate of North Syracuse High School.
On May 5, 1952 Connie and William J. Szaraz Sr. were united in marriage in Syracuse's St. Peter's Church and shared that loving union until Mr. Szaraz death on October 20, 1978.
Connie was a communicant of Holy Family Church of Vernon where she gave freely of her time to several of the church's groups and activities. She was a homemaker who found great joy in caring for her family and beloved grandchildren and great-grandchildren.
Surviving are her daughter Mary Gatley and fiancée Pat Loso of Rome, one son, Michael and daughter-in-law, Lorraine Szaraz of Vernon, her grandchildren, Amanda (David) VanSaun, Emily (Devin) O'Toole, Meg Szaraz, Katherine Gatley and fiancée Jay Semo, Joe Gatley, Tricia Loso and Anna Loso, six great-grandchildren, Nora VanSaun, Damien O'Toole, Nicholas Semo, Harriet VanSaun, Tristan O'Toole and Julia Semo, other family members include, brother, Joseph (Beulah) Liberati, two sisters, Rose Chiarmonte, Betty Liberati, sister-in-law Helen Liberati, and several nieces and nephews.
Connie was predeceased by her husband, William J. Szaraz Sr, son William J. Szaraz Jr., four sisters, Anne Bingham, Angie Puchir, Marion Mazzuca, Vera Serino, brother-in-law and sister-in-law Sam and Helen Iacone , two brothers, Nick Liberati and Louis Liberati and brother-in-law Peter Serino.
In keeping with Connie's wishes there no public calling hours. A celebration of her life will be held at a Mass of Christian Burial on Monday November 13, 2017 at 11:00 a.m. at Holy Family Church, Peterboro Street, Vernon, New York. Burial will follow in St. Helena's Cemetery, Middle Road, Oneida, New York. In memory of Connie please send donation to Holy Family Church or Upstate Cerebral Palsy, 1020 Mary Street, Utica, NY, 13501. Online condolences may be sent to maleckifuneralhome.com