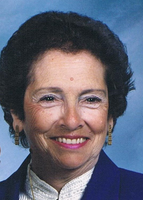 Mary Condes
Verona-Mary Condes, age 80 of Main Street passed away peacefully late Thursday evening, November 16, 2017 in the comfort of her home with her loving family at her side.
She was born in May 4, 1937 in Auburn, New York a daughter of the late Phillip and Arimonda Vella and was a graduate of the Auburn School System.
On May 9, 1959 Mary and Henry "Hank" Condes were united in marriage in St. Francis of Assisi Church in Auburn, New York and shared that loving union until of over forty seven years together until Hank's death on August 30, 2006.
In her early working career Mary was employed with Auburn dental offices as a dental assistant and receptionist. While living in Verona she was employed a Camden doctors office and worked at BOCES as a special education aide.
While her children were growing up Mary was active with the Verona Little League and the Canastota Saints Drum and Bugle Corp.
She was a member of Holy Family Church of Vernon. Mary volunteered and served as president for the local Cystic Fibrosis Foundation for fifteen years and volunteered on the Tri-Valley YMCA as a board member for nine years.
Her greatest accomplishment and joy was raising her five children that she adored.
Surviving are her five children, Henry Condes III of Wilson, Richard Condes of Verona, Michael Condes of Ohio, Jamie Condes of Verona and BJ Condes of Verona, thirteen grandchildren and three great-grandchildren and special friends Ann Horodnick whom she will see in Shopper's Heaven. A special thanks to Jennifer James for her help during Mary's illness.
In keeping with Mary's wishes there will be no public calling hours. A mass of Christian Burial will be celebrated on Tuesday, November 21, 2017 at 11:00 a.m. at Holy Family Church, Peterboro Street, Vernon, NY. Burial will follow in Verona Cemetery, Main Street, Vernon, NY. In memory of Mary please send donation to the Cystic Fibrosis Foundation, 200 Gateway Park Drive, Building C, Syracuse, NY, 13212 or Tri Valley YMCA, 701 Seneca Street, Oneida, NY, 13421 or the Verona Volunteer Fire Dept., 5555 Volunteer Ave., Verona, NY, 13478. Arrangements are with the Malecki Funeral Home of Vernon. Online condolences may be sent to maleckifuenarlhome.com