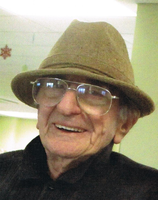 Carmine T. DeVito
Sherrill-Carmine T. DeVito, age 91, a former Vernon and Noyes Manor resident and more recently of the Eastern Star Home passed away peacefully early Tuesday morning November 21, 2017 at the home with his loving daughter Kathleen at his side.
He was born on March 28, 1926 in Brooklyn, NY, a son of the late Frank and Celestine (Mazzola) DeVito and was a graduate of Queens Boys High.
In 1944 Carmine enlisted with the U.S. Navy and served in the Pacific Theatre during WW II and was honorably discharged in 1946.
On June 28, 1952 Carmine and Margaret Mary Brophy were united in marriage in Brooklyn, NY and shared that loving union of nearly fifty-five years together until her death on January 1, 1997.
Prior to his retirement Carmine was employed as a carpet salesman with Marina Carpet of Long Island.
Carmine was a member of St. Helena's Church of Sherrill. He enjoyed time spent at the Senior Center and cherished his time spent with his family.
Surviving are two sons and two daughters-in-law, Robert (Debbie) DeVito of Long Island, Richard (Janet) DeVito of Sturgeon Bay, WI, Maureen Talbot of Sherrill and Kathleen (Phillip) Higgins of Oriskany, his beloved grandchildren, Joshua, Bethlynn, Brittany, Matthew, Margaret, Celia, Richard, Anthony, John Thomas, Samantha and Rachael, also surviving are one sister Kathy (Chris) Longo of Riverhead and several nieces and nephews.
Carmine was predeceased by his wife, Margaret, son Christopher and brother Ronald DeVito.
The family would like to extend a heartfelt thank you to the staff of the Eastern Star Home for their compassionate care shown to Carmine during his stay at the home.
There will be no public calling hours. A funeral service to honor Carmine's life will be held on Saturday, November 25, 2017 at 9:00 a.m. at the Malecki Funeral Home Inc., 464 Sherrill Rd., Sherrill, NY. Private burial will be in St. Helena's Cemetery, Oneida, NY. Arrangements are with the Malecki Funeral Home of Sherrill. Online condolences may be sent to maleckifuneralhome.com