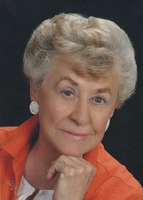 Mary Jane Clark
~~SHERRILL - Mary Jane (Menard) Clark, 91, of 459 Sherrill Road in Sherrill, passed away on Thursday, November 23, 2017 at Sitrin Extended Care in New Hartford.
Mary Jane was born August 17, 1926 in Ft. Wayne, Indiana and moved to Pittsburgh in 1935. She worked at Republic Press as a Commercial Artist until 1949. She married George M. Clark, Jr. on May 29, 1947. In 1960, George was promoted and the family moved to Oneida, NY then settled into Sherrill in 1964.
For many years, Mary Jane worked for the Foothills Girl Scout Council as a Field Director and Director of Fund Development. She retired from the Girl Scouts in 1979 to open Clark Advertising Agency with her husband George. She was extremely active in the community with the United Way, Utica Chamber of Commerce, Excellence in Education Program, and Mohawk Valley Ad Club where she was awarded Ad Person of the Year in 1982.
In 1987, she and her daughter, Susan, started Creative Services, specializing in tourism advertising. Creative Services won numerous awards from the I Love NY State Dept of Tourism for excellence in ad campaigns and printed pieces for Old Forge and Central Leatherstocking Region. Mary Jane was also the Advertising/Promotional Director for New Hartford Shopping Center for over 18 years.
She retired from her career in 2006.
After retirement she stayed busy volunteering to help promote local events. She was an accomplished artist and most days could be found on her back porch with her canvas & oil paints. She was a free-lance writer and was published in numerous tourism publications, as well as being a published author of 2 children's books.
Mary Jane was deeply loved and has left us with many, many happy memories.
Surviving Mary Jane are, her sister Lois Ivol; daughters, Nancy Dowless (Jerry), Susan LaManque (Timothy); son George M. Clark (Elaine); grandchildren, Carrie Rawn (Jay), Amy Harrison (Michael), Maggie LaManque, Wendy LaManque (Terry), Mackenzie Clark (Audrey), Grace Clark, Elliott Clark (Christina); great grandchildren, Nicholas & Jacob Rawn, and various grand puppies. Mary Jane was predeceased by her husband, George; and her sister, Betty June Gibellino.
Friends are invited to call on Friday, December 1 from 4:00 to 6:30 pm at Malecki Funeral Home in Sherrill. A church service will be held Saturday, December 2 at 10:30 am at Christ United Methodist Church, Park Street, Sherrill. After the service, there will be a brief internment ceremony at Sherrill Kenwood Cemetery on Middle Road followed by a light luncheon served at the church.
In lieu of flowers, please consider a donation in Mary Jane's name to VVS Education Foundation, PO Box 63, Sherrill, NY, to be used as a scholarship for a deserving area student.