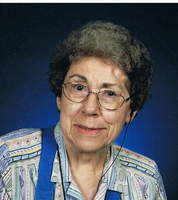 Eleanore S. LaManque
Vernon-Eleanore S. LaManque, age 80, formerly of State Rt. 31 and for the past few years a resident of the Martin Luther Home of Clinton passed away early Thursday morning, January 4, 2018 at the nursing facility.
She was born on April 22, 1937 in Vernon, New York a daughter of the late Clarence L. and A. Evelyn (Lawrence) Seifert and was a graduate of Vernon High School.
On October 13, 1956 Eleanore and Raymond L. LaManque were united in marriage and shared that union of over 57 years together until Ray's death on January 26, 2014.
Prior to her retirement Eleanore was employed with various businesses as a bookkeeper, including Sear and Roebuck, Uebler's Manufacturing and Marshall Houseman's Truck Repair.
In her spare time Eleanore enjoyed singing with the choirs and enjoyed playing cards and teaching her nieces and nephews new card games. She was a charter member of the Durhamville Trail Riders and was a racecar driver who won a Powder Puff Derby at the Vernon Speedway.
She was a member of the Vernon United Methodist Church.
Surviving are her siblings, Lawrence "Lollie" (Lillian) Seifert, Laura Wells, George Seifert, brother-in-law, Gerald (Ruth) LaManque, sisters-in-law, Sharon Loan, Radine O'Lender and Nancy Saunders, many nieces, nephews, great nieces and great nephews.
Eleanore was predeceased by her husband Raymond, sisters Frances Gums, Violet Robinson, Sharon Clark and brothers Milton and LaVerne (Grove) Seifert.
The family would like to extend a heartfelt thank you to niece Julie Seifert for the times spent with Eleanore during her stay at the nursing facility.
Family and friends are invited to call on Tuesday January 9, 2018 from 5:00 to 7:00 p.m. at the Malecki Funeral Home Inc., 23 Front Street, Vernon, New York. Funeral services will be held at 7:00 p.m. at the funeral home immediately following the calling hours; Burial will be Wednesday January 10, 2018 at 1:00 p.m. in Maple Grove Cemetery, Vernon, New York. Online condolences may be sent to malecki funeralhome.com