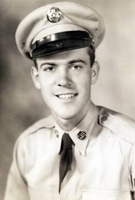 Frank M. Russ
Sherrill – Frank M. Russ, age 87, of Cherry Lane, passed away on Monday, January 08, 2018, at his home with his loving family by his side.
Born January 17, 1930, in Hempstead, Long Island, NY, he was the son of the late Francis X. and late Adelaide Russ. Frank was a high school graduate and went on to earn a Bachelor of Fine Arts Degree from Pratt Institute in Brooklyn, New York. He enlisted in the Army in 1952, and served his country for two years before remaining in the Army Reserves.
In 1956, Frank was united in marriage to Joan Hansen in Mineola, Long Island, NY, and shared over 61 years of marriage together.
Frank worked as a commercial artist for Northrop Grumman, on Long Island, until his retirement. Frank and his wife have lived in Sherrill, NY for twenty one years. He was a member of Central New York Watercolor Society and the Cazenovia Watercolor Society. Frank was a member of St. Helena's Church in Sherrill. Frank was also a member of Post 230 in Sherrill. Frank was a former member of the Oneida Chorale.
Survivors include: His loving wife Joan Russ of Sherrill and his five children, Kathleen (Patrick) Carroll, Jean Marie (Frank) Andrello, Gerianne (Joseph) Pati, Lorelle (James) Rinaldi, and Frank (Dawn) Russ. His thirteen grandchildren; one great granddaughter; and several nieces and nephews. Frank is predeceased by his siblings.
Family and friends are invited to attend a Mass of Christian Burial on Saturday, January 20, 2018 at 10:00 a.m. at St. Joseph Church, Oneida, New York. In lieu of flowers, donations in Frank's name can be sent to Hospice Care 4277 Middle Settlement Road, New Hartford, NY, 13413. Online condolences may be sent by visiting http://maleckifuneralhome.com/.