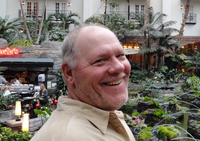 Mark C. Burke
VERNON CENTER – Mark C. Burke, 56, of Vernon Center, NY, unexpectedly went home to our heavenly father on Wednesday, November 22, 2017 at the Oneida Healthcare Center surrounded by his loving family and friends.
Mark was born in Oneida, NY, on September 30, 1961. He was the son of Charles and Elaine Burke in Vernon Center, NY and Arlene Wagner. In Verona NY, Mark graduated from Vernon-Verona-Sherrill High School 1979.He entered into a blessed union of marriage to Tamela A. Congden on June 30 1994.
He was employed by the Town of Vernon Highway Department, where he took great pride in his job making sure the roads were safe for everyone. He worked alongside his father for many years, and then his son's, as well and many wonderful friends that he called family. This group of men would do anything for each other and anyone in need at any given moment. Mark was the most caring, loving man who touched so many lives. He will be missed, never forgotten and forever in our hearts.
He enjoyed hunting, riding his horse, Joey, and snuggling with his dogs. Mark always cherished spending time with his family, playing silly games with his grandchildren; hair ties and all; he was at their beck and call always with a smile and laugh! Poppa, as they called him, was the best; no one could fill his shoes. He was our Heavenly Angel; no matter how hard he had worked, if you were in need he was there!
Mark is survived by his loving wife, Tamela (Congden) Burke of Vernon Center, father, Charles and Elaine Burke , mother Arlene Wagner , children: Jonathan Christy (Johnathan) Pittman Fishers, IN, Charlie( Liz) Burke of Vernon, Jennifer (Jessie )Lloyd of Rome, "Garrett( Lacie) Burke of Vernon Center, Tiffany Fedor of Indianapolis, IN, grandchildren: Nashya, Kaylani and Denzel Lacy of Indianapolis, IN, Olivia, Zachary Lloyd of Rome, Trece, Mya Pittman of Fishers, Indiana, Charliee Ann Burke of Vernon Center, siblings: Rhonda (Scott)Hummer of Madison, Susan Ottaway-Buechi of Phoenix, AZ, Sondra (Jimmy)Shearing of Rochester, Timmy Burke & Nicole Stockbridge of Oneida, Krista( Marc) Wayland-Smith of Sherrill, Jeff Sprague of WV, and many nieces, nephews, uncles, aunts, cousins and friends.
In keeping with Mark's wishes there will be no public calling hours or funeral services. The family will have a private gathering to celebrate and remember Mark's life. Arrangements are with the Malecki Funeral Home of Vernon. Online condolences may be sent to maleckifuneralhome.com