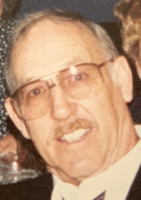 Glenn H. "Coop" Cooper
Verona-Glenn H. Cooper, 81, of Verona, NY passed away peacefully on Tuesday, October 10, 2018 at Upstate Medical University after a brief battle with cancer.
Coop was born on July 23, 1937 in Gouverneur, NY and was the son of the late Anda and Geraldine (Shatraw) Cooper. After high school, he served in the United States Navy until 1961. Coop was a hard-working man who spent his years in construction, owning and operating dump trucks and tractor trailers both independently and for various employers in the area until his retirement in 2014. He was joined in marriage to Elizabeth Havener on April 29, 1972 in Oneida Castle, NY.
Alongside his wife, Elizabeth, he is survived by his children; Thomas Cooper, Brian Sansone, Susan (Jeffrey) Bee, and Amy (Daniel) Stone, his grandchildren; Arie and Alexia "Bug" Cooper, Matthew and Morgan Stone, Taylor and Lauren Bee, one great-granddaughter; Emersyn Novak, and three sisters; Virginia Tuttle, Marion Barr, and Lillian Erwin, and several cousins, nieces, nephews.
He is predeceased by two brothers, Anda Cooper and Clifford Shatraw.
Per Coop's wishes there will be no calling or funeral services. A private celebration of his life will be held by family at a later date.