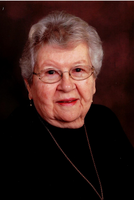 Violet P. Trost
Vernon-Violet Peters Trost passed away peacefully with her family by her side Tuesday afternoon December 13, 2022 at Oneida Extended Care Facility following a brief illness. She was born February 3, 1928 the daughter of Elsie Dann and Edward S. Peters. She graduated from the Vernon High School and attended Oswego State Teachers college.
Violet served as Vernon Village Trustee from 1979 until her appointment as mayor on December 14, 1985. She was elected for her first term as Mayor of Vernon in March of 1986 being the first woman elected for this position. One of her main objectives as mayor was to create more opportunities for the children of the community. She created the Annual Kids Day and kids summer playground.
Violet served on the Cornell Extension Service Education Committee. She spoke at the Kennedy School of Government at Harvard University representing the New York Department of State. Violet belonged to the New York State Conference of Mayors, where she served on the Nominating Committees plus other municipal related programs. She served as Mayor of Vernon from 1985 to 2001.
During her terms as Mayor a major upgrade to the Vernon Wastewater Treatment Plant was completed, Senior Housing completed and a major upgrade to Bartholomew Park in the village was completed. She has been a member of the Mt. Vernon Presbyterian Church in Vernon since April 5, 1942. She served as an Elder, Deacon, sang in the choir and was a Sunday school
teacher. She served as a moderator of the Utica Presbytery in 2000-2001, was Chairperson of the Personnel Committee, served on the Session Record Committee and the Pulpit Nominating Committee.
She worked with the Ecumenical Council, the Ecumenical Vacation Bible School. She was involved with the Girl and Boy scouts. She was a member of the Vernon Senior Citizens having one time served as President. She was a member of the Vernon Mini Fair Committee which began in 1976 at the time of our Nations Bicentennial Celebration.
Spending time with her children, grandchildren and great grandchildren was her greatest joy. She enjoyed spending time with them at their camp on Kayuta Lake, their music, sports and other school programs.
She is survived by two sons and a daughter in law; Richard Trost and his partner Tina Young of Vernon Center, Edward and Shirley Trost of Vernon, three daughters and sons in law ;Gary and Patricia Planck, Gary and Rebecca Onyan, Andrew and Charlene Gregory all of Vernon and a daughter in law Patricia Trost of Pittsboro, North Carolina. She is also survived by two granddaughters and grandson in laws; Melinda (Matthew Ryan) of Chapel Hill, North Carolina and Jessica (Joshua Chenel)of Munnsville; nine grandsons , Jason (Jacquelyn) Trost of High Point , North Carolina, Jeremy (Shelly )Trost of Knoxboro, Eric (Dana )Planck of Jacksonville , Florida , Trevor (Kara )Onyan of Sherrill , Joshua Onyan and his partner Brian Corfield of Manilus, Adam Trost of Vernon , Christopher Gregory and his partner Tonya Terenzetti of Sherrill , Andrew Gregory of Vernon , Dylan Trost of Liverpool and three step grandchildren , Christopher ( Casey) Barron , Colleen( Aaron) Jackson and Matthew (Sara) Barron as well as 11 great grandchildren and 9 step great grandchildren.
She is predeceased by a sister and brother in law, Dorothy and William Amann , and two brothers and sister in laws; W. Edward and Doris Peters and Leon D. and Minnie Peters, and a grandson Justin Trost and great granddaughter Avery Barron.
She is survived by several special nieces, nephews, grand- nieces and grand nephews.
The family would like to express their appreciation to the staff of the Oneida Extended Care Facility where Violet had been a resident since Feb. 2017. Every department from activities to the 5th floor staff showed kindness , compassion and went above and beyond to create a friendly and caring environment for her. In lieu of flowers donations can be made to the Resident Activities Department at the Extended Care Facility. The money will be used to provide entertainment, happy hours, cooking and art projects along with other activities to brighten the residents days and bring smiles to their faces.
Family and friends are invited to call on Sunday, December 18, 2022 from 2:00 to 4:00 p.m. at the Shiloh Bible Church (former Mt. Vernon Presbyterian Church) 5204 W. Seneca Street, Vernon, New York. Violet's funeral service will be at 4:00 p.m. at the church immediately following the visitation. Spring burial will be in the Vernon Village Cemetery. Arrangements are with the Malecki Funeral Home of Vernon. Online condolences may be sent to maleckifuneralhome.com