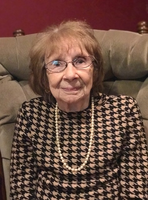 Beverley H. Burleigh
Vernon Center-Beverley H. Burleigh, age 94, formerly of Marble Road passed away peacefully Tuesday afternoon, December 20, 2022 in the Waterville Residential Center, where she most recently resided. Her loving family was by her side to walk her home.
She was born on December 15, 1928 in Vernon, New York a daughter of the late Harry B. and Zoa (Thurston) Hogan and was a 1946 graduate of Vernon High School. She was the eldest of six children. During her younger years Beverley was an avid dancer having performed tap and solo dances at the Stanley Theater. She also performed in numerous Sherrill concerts playing her clarinet. At age five she developed a love and talent for the piano.
On June 14, 1947 Beverley and Leroy L. "Roy" Burleigh were united in marriage in the Vernon Center Presbyterian Church and shared that loving union of over fifty-seven years together until Roy's death on December 15, 2004.
Prior to her retirement in 1986 Beverley was employed as a loan officer with the National Bank of Vernon.
Beverley was a loyal NASCAR and Syracuse Basketball fan. She loved to sew and made many quilts for her family along with costumes and clothes. Beverley loved to cheer her grandchildren on in their numerous extracurricular activities. Her love for the piano continued through her lifetime. Beverley was musically gifted. She could play anything by ear and composed some songs of her own.
She enjoyed playing while her husband Roy was strumming along on his guitar. Bev and Roy especially enjoyed spending time at their camp on Raquette Lake with their children and grandchildren that have made lifelong cherished memories that will live on for generations to come.
She was a member of the Vernon Methodist Church and a hospital volunteer. Surviving are her three children, Gary Burleigh of Elizaville, Janis (Dale) DeRocker of Oneida, Gail (Gary) Henderson of Sherrill, and her ten beloved grandchildren, Jonathan (Rachel) Burleigh, Jolie (Andrew) Paterson, Corey (Elizabeth) Burleigh, Brett DeRocker, Jaime DeRocker, Benn DeRocker, Christopher (Amy) Henderson, Cody (Jenny) Henderson, Kaleigh Henderson, and Casey Roy (Liz) Henderson. In addition she was loved by twelve great grandchildren, Logan, Peyton, Madden, Everly, Beckett, Juniper, Sebastian, Luke, Greyson, Adeline, Royce, and Calum as well as many supportive and loved nieces and nephews.
Beverley was predeceased by all her siblings, Mary Ellen Zabele, Diana March Wilson, Patricia Avery, David Hogan, and Christabel Cox.
At Beverley's request all services will be private and at the family's convenience. In lieu of flowers please consider a donation to Tunnel to Towers www.t2t.org. Arrangements are with the Malecki Funeral Home of Vernon. Online condolences may be sent to maleckifuneralhome.com