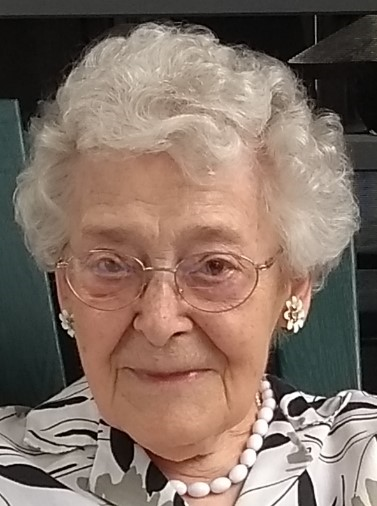 Obituary of Dorothy H. Conroy
A long life well lived came to a peaceful end at home on June 25, 2021, when Dorothy Conroy passed away three weeks shy of her 101st birthday. Recently a resident of Clinton, Dorothy was born in Verona, and spent most of her life in Durhamville, after residing for a time in Oneida. She moved to Sherrill in 2011, and then to Clinton in 2018. She was the first child of H. Melicent Kaiser and Irving David Hugunine. Dorothy was born on July 16, 1920 at the new Hugunine family homestead on State Route 31/Bridge Street in Verona. She graduated from the Verona High School in 1937. She regularly attended the school reunions until Covid forced their cancellation in 2020. After graduation she gained employment in the Mail Room at the Oneida Limited in Sherrill, and later took an office job at the National Casket Factory in Oneida. It is here that she met her husband of 36 years, Daniel J. Conroy. Before marriage, Dorothy engaged in many varied activities, among which was learning to pilot small aircraft. After marriage in November of 1945, she left work and gave up flying to raise her family. Dot loved her family and she and Dan invested significantly in raising their children. From regular involvement in PTA activities, to driving her kids and their friends to swimming lessons and other youth activities, Dorothy provided direction and the foundation that would serve her children throughout their lives. She and Dan always emphasized that anything worth doing was worth doing right. This also meant that you did what was needed and necessary, regardless of what the traditional gender role might have been. Her daughter did yard work at times, like shoveling the driveway, and her sons did housework, like the dishes after dinner. It was important to her that her kids learn that women and men should be equal partners in any relationship. Dorothy loved music and participated in the church choir at St. Francis. She also loved to play her piano, then the organ, which she treated herself to in replacement of the piano, and lastly, the keyboard that she used when she downsized and the organ would not fit in her apartment. She transferred this interest in music as something important to her children, taking them to music lessons and supporting them in their recitals and concerts. That interest still lives in her children and grandchildren. Dot also emphasized the importance of family to her children. Therefore, it is not a surprise that she found great pleasure in her grandchildren and great grandchildren. She loved the chance to be with family and friends, and if that meant that there was a party to plan or attend, all the better. She loved the opportunity to get together with all of those people that were important to her.After the family was taken care of, she returned to work in 1965 in the bookkeeping department of the Oneida Valley National Bank (now NBT). She retired in 1982 and embarked on one of her favorite activities: traveling. Before retirement and the passing of her husband, Dot and Dan travelled regularly with Mark and Winifred Dalton. From trips to Knights of Columbus Conventions to vacations to places like the Canadian Maritimes, the two couples covered a lot of the Northeast. Once retired, Dorothy travelled extensively; visiting Europe, where frequently, due to her strong religious faith, religious shrines or sites were often a focal point. She also travelled to the Holy Lands of the Middle East. Dorothy also had time to explore much of North America, venturing to Mexico, Canada, and throughout the United States including Alaska and Hawaii. She frequently used the services of Oneida Travel headed by Mary Anne Petrie, or June Zeller Trip and Travel Planning. Many of her trips to religious sights and shrines were organized by a long time family friend, Helen Helt. Dot thought nothing of packing a suitcase for an overnight bus trip or for a two-week trip abroad. She also enjoyed wintering in Florida with her good friend Mary Jane Wright Miller. Mary Jane and Jo Taber were frequent travel companions. Dorothy was involved in many organizations such as the Catholic Daughters of America, Oneida Court of Our Lady; the St. Francis (Durhamville) Altar-Rosary Society, the Durhamville Volunteer Fire Department Auxiliary, the Durhamville Improvement Association, the Durhamville Elementary School PTA, the Town of Verona Senior Citizens, St. Joseph's (Oneida) Senior Group, and the Verona High School Alumni Association. She also served on the Parish Council and as Historian/Archivist of St. Francis Church (Durhamville). She served in several leadership positions and on various committees for these organizations and groups, including President, Vice-President, Secretary, and Treasurer. Planning and working on the annual Durhamville Volunteer Fire Department Field Days, with the Ladies' Auxiliary or the St. Francis Holiday Festival/Bazaar were typical of the many activities she participated in with the groups she belonged to. Dorothy was pre-deceased by her mother and father; her first born son John; her husband Dan; her sister Mary Jane Dixon and husband Edward and their daughter Susan Dixon Larmer; her brother S. Michael Hugunine and wife Anna Mae Kenneally Hugunine, and their son Michael; her sister-in-law Rita Wells Hugunine; her brother-in-law Harry Walker; her sister-in-law Virginia Kelly Conroy Ripley and husband George and their daughter Connie Ann; her brother-in-law J. Frank (Francis) Conroy and wife Ruth; her sister-in-law Anna Regina Conroy Tierney and husband Herbert and their sons Herbert Jerry, Philip, and Frank. She is survived by her daughter Maureen, of Albany; her sons Terrence (Margaret) of Golden Lake, Ontario; Kevin (Nora) of East Syracuse; and Timothy (Suzanne ) of Albany; her brother George Hugunine of Verona and her sister Beverly R. Walker of Verona; 7 grandchildren; 9 great grand-children; 6 nieces and 2 nephews. Dorothy has deep longevity roots on both sides of her family. Her paternal great-grandparents, John David Clemens and Gertrude Mowers Clemens, were feted on the occasion of their 78th wedding anniversary, which they celebrated, in good health, at the ages of 99 and 95 respectively. Her paternal grandmother, Betsy Clemens Hugunine, lived from 1857-1949. On her mother's side of the family, the Kaisers and Weismantles were prominent families in New London on the bustling Erie Canal. Her maternal grandfather, Michael Kaiser, lived to the age of 93, and her mother, Melicent lived into her 99th year. Dorothy surpassed them all.Dot was the great niece of Peter F. Hugunine, known for his historic painting of the Revolutionary War Siege of Fort Stanwix, which is now on display at the Rome Historical Society. She was also the great-great niece of Samual Clemens (but contrary to folklore, not Mark Twain). Dot and her family would like to thank Sandie Capparelli and Leslie Hallman for all of their years of service as Dot's "administrative assistants", Bonnie and Her Band of Angels (special thanks to Tatianna Ferrone) for the excellent care they provided in recent months, and to the wonderful folks of Ebenezer's who treated her like family. When Dot retired from cooking in 2012, she became a regular at Ebenezer's in Sherrill where she went daily for lunch with her neighbors Barb Nurnberger and Eleanor Ford, whom she also convinced to retire from cooking. Another thanks goes to Mary Lyon, a traveling companion of Dorothy, who helped her find her apartment on Marshall Place in Sherrill when Dot was looking to downsize in 2011. A further thanks is extended to the staff of Brookdale Independent Living in Clinton for all they did to provide Dorothy a home in her last years. Dot truly loved and appreciated the special people she met and befriended over the years. Thanks are also extended to the Staff at Faxton-St. Luke's Hospital for the care they provided in Dorothy's time of need. And a final thanks to Hospice of Oneida, Herkimer, and Eastern Madison County for making her final days as comfortable as possible. Friends and Family may call at the Malecki Funeral Home in Sherrill on Thursday July 1, from 3-7 P.M. A burial service will take place on Friday, July 2 at St. Patrick's Cemetery in Oneida; all are invited to attend. A memorial mass will be celebrated on Friday July 16 at 11:00 A.M. at St. Helena's Church in Sherrill. A 101st Birthday Celebration of Life will follow immediately after. In lieu of flowers, donations may be made to Durhamville Volunteer Fire Department, P.O. Box 237, Durhamville, NY 13054; or Catholic Daughters, Court of Our Lady 1250, c/o Cindy Thurston, 3949 Peterboro Road, Vernon Center, NY 13477.
To send flowers to the family or plant a tree in memory of Dorothy Conroy, please visit Tribute Store
Visitation at Funeral Home
3:00 pm - 7:00 pm
Thursday, July 1, 2021
Malecki Funeral Home Inc.
464 Sherrill Rd.
Sherrill, New York, United States
Memorial
11:00 am
Friday, July 16, 2021
St. Helena's Church
210 Primo Ave.
Sherrill, New York, United States
Final Resting Place
St. Patrick's Cemetery
Fairview Ave.
Oneida, New York, United States
Share Your Memory of
Dorothy
​

---
464 Sherrill Road
Sherrill, New York 13461
T: (315) 363-4110
F: 315-829-3669
E: maleckifuneralhome@centralny.twcbc.com
---
​

---
23 Front Street
Vernon, New York 13476
T: (315) 829-2626
F: 315-829-3669
E: maleckifuneralhome@centralny.twcbc.com
---